Anne Gallagher gives powerful and inspiring address on the People's Commonwealth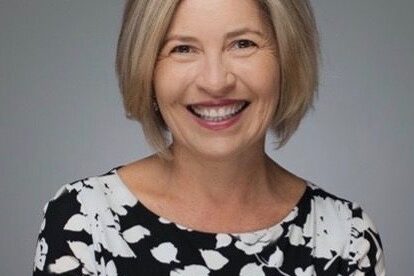 The Director-General of the Commonwealth Foundation, Dr Anne Gallagher, gave the first Patsy Robertson Memorial Lecture at the AGM of The Commonwealth Association on 22 July. We hope to post a video of the lecture before long. The text of her powerful and inspiring address is given below.
A review of the lecture by Debbie Ransome of the Round Table is available here
THE PEOPLE'S COMMONWEALTH
Commonwealth citizens, friends of the Commonwealth,
When I was asked to deliver this lecture, I had to take a deep breath. I understood, very well, that this could be no ordinary event; that this lecture was a tribute to one of the great pillars of the Commonwealth: a woman whose courage, wisdom and grace did so much to unite our 54 countries.
It is fitting, therefore, that I begin with a few words about Patsy Blair Robertson; a few words about the person—and the principles and ideals that she championed. I've been in post a bit less than two years, and only met Patsy properly on a few occasions. But in learning about her life, I feel that I have come much closer to learning about the Commonwealth: what it stands for; what it is; and especially, what it could be.
That shouldn't be surprising. In so many ways, the arc of Patsy's life resonated with that of the organisation she served so loyally—and championed so fiercely. Her childhood and young adult years in Jamaica gave her an insight into the legacies of the worst aspects of colonialism, insights that clearly shaped the role she would play in the Commonwealth. Learning about Patsy's early life I was struck by the clarity of her commitment to justice: her instinctive rejection of inequality; her repudiation of unfairness in all its forms.
Patsy lived to witness the evolution of the Commonwealth from (her words) 'a rich man's, white man's club', a 'relic of empire' into something very different: an organisation that was voluntary embraced by newly independent colonies of the former empire; embraced by a new wave of leaders who demanded equal treatment and an equal voice in this unique association of free States.
Patsy witnessed—participated in—what we must all agree to be the finest chapter in the history of our Commonwealth: its work on ending violence and apartheid in Southern Africa. Her accounts of the backroom politics, the divisions, the deals—and of course of the personalities that dominated this chapter—are riveting. It was through the words of Patsy that I learned how the Commonwealth Secretariat stood up against powerful Member States and media interests that, in her gentle words: 'lacked an interest in racial justice'; I learned of how a Secretariat, fearlessly led by an individual who was more General than Secretary, stood up against those who were seeking to block progress towards independence for Rhodesia and South Africa.
Through Patsy, I also learned how that era shaped so much of the modern Commonwealth: the Fund for Technical Cooperation, for example, which was used to nurture a new generation of public officials: young people who, for the first time, had the chance to become involved in the governance of their countries.
Perhaps the greatest inspiration that I have drawn from Patsy's life and work relates to her unshakeable belief that the Commonwealth is not just another club of States: that it is—it must be—an association of peoples. Like the United Nations Charter, our own Charter begins with those fine and stirring words: 'We the people'. But unlike the UN, the Commonwealth has taken this idea much further: through, for example, creating an intergovernmental arm—the Commonwealth Foundation—that is explicitly mandated to advance the interests of civil society.
This belief in the Commonwealth as an association of peoples is the shining thread that ran through the whole of Patsy's career: we see it in her nurturing of civil society groups who were working against apartheid; we see it in her setting up and leading the Commonwealth Association; we see it in her stealthy support of dissident politicians and their supporters; we see it in the Ramphal Institute, which she co-founded. Patsy was a subversive in the true sense: weaving what others have termed 'a web of subtle defiance' against those who stood in the way of truth and justice.
Patsy had many strings to her bow but those who knew her best understood that journalism was her lifelong vocation. It is therefore appropriate that I now move the focus to an issue that I believe is at the core of her vision of the Commonwealth: freedom of expression.
I'm not a media expert. But after 30 years as a lawyer, criminal justice practitioner and international civil servant, I've come to understand the critical link between freedom of expression and the much larger idea of human rights.
Without freedom of opinion and expression—without media freedom as a core element of that larger right—all else is at risk. From the right to health, to the right to participate in government; from the prohibition on torture, to the right to a fair trial: all hinges on the capacity of a society to understand what is going on.
Intergovernmental organisations have played a vital role in elevating freedom of expression to the status of a universally recognised right. They've done the hard work of socialising us all to the idea that freedom of expression—including media freedom—is essential to the flourishing of democratic societies and a basic condition for development. And while the Commonwealth has not led the pack, we should not forget that, through its Charter, this Organisation too, has loudly and clearly affirmed the right of every Commonwealth citizen to freedom of opinion and expression—and critically, the obligation of every Commonwealth State to protect that right.
But, on this human rights issue, as so many others, public commitment races ahead of reality. Over a third of Commonwealth Member States now languish in the bottom half of the World Press Freedom Index. My own country, Australia, doesn't make the top 20 and the UK is even lower.
Across the Commonwealth, journalists face intimidation and arbitrary detention. And I must place on record my legal opinion that Julian Assange, in his present situation, belongs in that category. Even worse crimes and human rights violations, including assassinations, are becoming more commonplace—and widespread impunity exacerbates their lasting impact.
In too many Commonwealth countries, counterterrorism and public security legislation is used to shield officials from media scrutiny; whistle blowers exposing corruption are prosecuted; and defamation and libel laws are wielded against public interest reporting. In almost every Commonwealth country, political and commercial interests are severely distorting the free flow of information. My informal litmus test—the capacity of a society to understand what's going on—is failing spectacularly across our Commonwealth.
And there is reason to fear things are getting worse. The Covid-19 pandemic we are all living through has weakened commitment to freedom of expression and media freedom, most especially in those countries where that right was already in decline.
And this already fraught situation is immeasurably complicated by the new media. How do we bring in the new gatekeepers of opinions and information whose operations directly affect freedom of expression? How do we require Internet Service Providers, search engines and social media platforms to respect freedom of expression and to contribute actively to a diverse and plural marketplace of ideas? How do we deal with false and potentially misleading information in ways that don't erode existing freedoms? How should we decide what the limits are and who should be involved in establishing and enforcing them?
I don't have any good answers to these questions, but I do know that we must be asking them. Perhaps there has never been a more dangerous time in history to stand on the sidelines and allow those whose interests are so different to our own; whose values are so far from ours; to be formulating the policies; taking the decisions, determining our futures.
More broadly, we must be standing up against the multitude of forces that are opposed to freedom of expression: we must be demanding protection of journalists and whistle blowers; we must be pushing for the prosecution of those who intimidate and attack them; we must be clear in holding our governments to account.
And this is where the Commonwealth comes in. Freedom of expression, because of its fundamental nature and its inherent challenge to power, is very much the canary in the coalmine. If the Commonwealth cannot step up: if it cannot, as an Organisation, demonstrate its commitment to this basic value, then the credibility of the Commonwealth as a values-based
organisation is seriously at risk.
We must push our Member States, we must mobilise the broader Commonwealth family to act in a way that demonstrates real commitment: whether that is in advancing the draft Commonwealth Principles on Freedom of Expression and the Role of the Media—or in calling out Member Governments that are acting in violation of the Charter's commitments—we must be firm in our resolve and united in our efforts. Anything less is a grave disservice to the Commonwealth and to the hard work of the many dedicated individuals—including Patsy, who came before us.
I will finish up by making a brief detour to an anniversary that is upon us. Ten years ago, the Eminent Persons Group, established by Heads of Government, issued its report on the future of the Commonwealth. Its job was to ask and try to answer one question:
'How best to increase the effectiveness of the Commonwealth, its institutions and activities so that member states and their citizens are well-served by an association that is greater than the sum of its parts, justifying continued affiliation, participation and collaboration of all of its member states?'
I can remember reading that report, marvelling at its passion and vision, which two decades at the UN had not prepared me for. Now that I understand the Commonwealth better; now that people like Patsy have shown me what it means and has meant to so many, the report makes much more sense. This is an organisation that was born in passion and vision. The reverse side of that is sobering and, for me, a core message of the report: without passion, without conviction and a strong sense of mission and purpose, the Commonwealth is destined for irrelevance and obscurity.
In the words of the reports' authors:
'Reinvigoration and refocus do not happen through complacency or inertia. It is complacency and inertia in vital aspects of the Commonwealth's values that currently pose the most serious threats to the continued relevance and vitality of the Commonwealth itself.'
It is helpful to look back on the report after the tumult and uncertainty of the past ten years. Many of the recommendations are yet to be realised. But one transformational change, based on the first recommendation of the report, was the adoption of the Commonwealth Charter.
We should never, ever, underestimate the power of this document. These are not the words of the Secretariat or the Foundation; they are not the words of Commonwealth civil society: these are the commitments of our Member States: commitments that they freely entered. Our Member States must be held accountable to those commitments: to human rights and to solidarity, especially with small and vulnerable Commonwealth countries; commitments to democracy, to equality and the rule of law.
The Charter is also a roadmap for our entire organisation. It should, in my view, be the basis of everything we do; the lens through which we evaluate our impact and our effectiveness. In the Foundation, we have elevated the Charter to that role: it is the framework and reference point for our new five-year strategic plan. The entire focus of our work: including around our new priorities: climate, health and freedom of expression, is explicitly directed towards the Charter; explicitly directed towards the realisation of the principles and ideals of the Commonwealth as set out in the Charter.
The Eminent Persons Report is rich in insights. But for me, one aspect stands out: the conviction of the authors that solidarity is essential to this Organisation's legitimacy. They are right of course. Solidarity is central to the Commonwealth project: it is fundamental to the idea that this disparate assortment of countries, united by only the most tenuous connections of history and language, is somehow much more than the sum of its parts.
The Commonwealth ideal of solidarity has been sorely tested over the past decade in ways that the authors of the Eminent Persons Report could never have imagined. To take just one recent example: our organisation comprises countries that are right at the top of the vaccination league tables and countries that are languishing right at the bottom. Those tables make clear that our smallest and most vulnerable Member States derive no practical benefit from their membership in the Commonwealth. They derive no benefit when it comes to protecting their citizens from disease and death. They derive no benefit when it comes to protecting their economies from catastrophic meltdown.
We can do much better than this. We must do much better than this. At the very least, we should be coordinating our efforts to ensure that countries who need it receive help with the supply or manufacturing of vaccines. We could set the bar even higher, by, for example, encouraging Commonwealth Member States and institutions to take a strong and unified position on the question of intellectual property rights over COVID-19 vaccines and medicines.
And the Commonwealth should be out the front in advocacy: using its many platforms to advance the moral and economic case, loudly and persuasively, for equitable access to vaccines. The case is clear. It must be articulated with precision and passion and communicated throughout and beyond the Commonwealth.
On this issue—and a few others I've touched on—it is time for our Commonwealth to show the world what solidarity looks like by standing up and speaking out.
In October the Foundation will be marking the ten-year anniversary of the Eminent Persons Report. We'll be doing this with a special event in our Critical Conversations series that will bring several of the Eminent Persons together with a group of young Commonwealth leaders and change- makers. Their brief is to discuss and debate the future of the Commonwealth. We've chosen this format deliberately: to understand the Commonwealth we must understand its history, most especially the challenges it has faced and fought to overcome. But the future of our precious organisation does not belong with my generation—or indeed Patsy's. It is in the hands of a generation that was not part of the passion and idealism of the early days; a generation that is still to be persuaded of the Commonwealth's value as a force for good in the world. We cannot live off past glories. We must reach out to our young people: we must bring them in to the Commonwealth family. We must work with them to create a Commonwealth that everyone is prepared to fight for.
It is right that I finish up by coming back to Patsy. When
thinking about the future of our beloved organisation, we should be asking ourselves what kind of Commonwealth would Patsy Robertson want? What kind of Commonwealth would she be urging us to fight for?
Deep down, we know all the answer.
Patsy would be urging us to fight for a Commonwealth that is unswerving in its commitment to human rights, to equality, to justice and the rule of law. She would be urging us to fight for a Commonwealth that is a force to be reckoned with on the world stage: a Commonwealth that shapes global policy on issues that matter most to its people. She would be urging us to unite in defending our smallest and most vulnerable Member States. She would be urging all of us, whatever our connection with the Commonwealth, to be brave in our defence of Commonwealth principles and ideals.
I wish I knew her better. But I know that Patsy would have applauded the Eminent Persons when they captured, in a few short words, their vision for our Commonwealth:
'We aspire to a Commonwealth that is in harmony with the future: an association that draws on its history; utilises its strengths; pursues the common interests of its members; and seizes the opportunity to help them and others shape a better world.'
Thank you.