Tributes to Sir Peter Marshall CMG, KCMG, CVO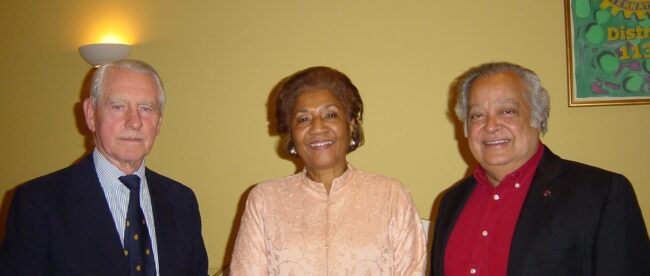 (1924-2023)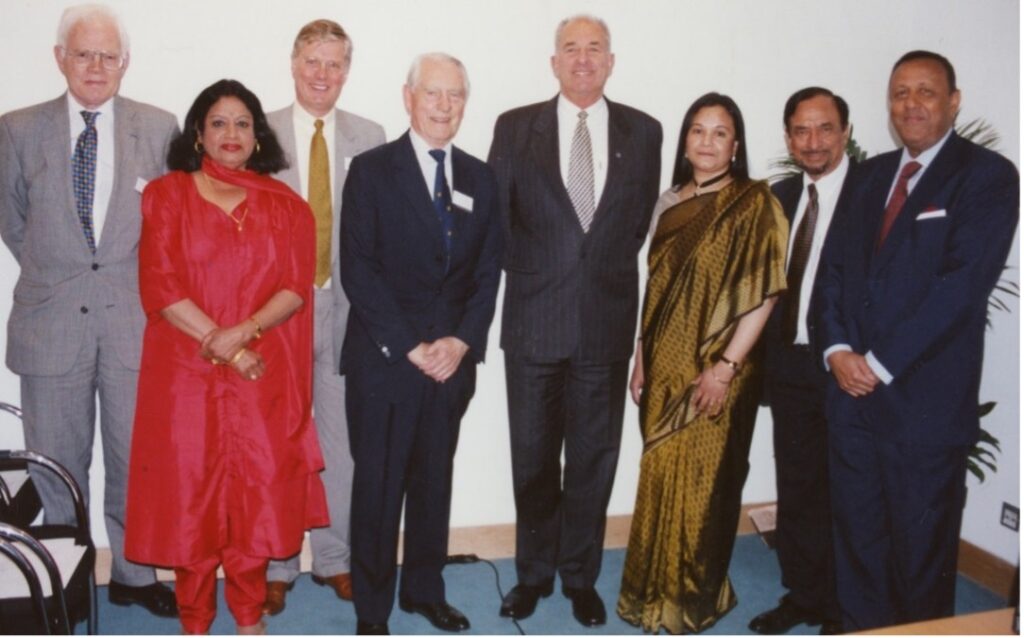 On 10 June 2023, Sir Peter Marshall, former Deputy Secretary-General (Economic) of the Commonwealth (1983-88) passed away peacefully while watching the World Test cricket championship. He was 98. Sir Peter had a long and distinguished career as a diplomat, during which he remained a passionate advocate of the Commonwealth. During his tenure at the Commonwealth Secretariat, he worked closely with the then Secretary-General, Sir Shridath (Sonny) Ramphal, on a number of important economic programmes. In his retirement, Sir Peter continued to support and serve the Commonwealth. He was a member of the Commonwealth Association since its launch in 2001. Sir Peter also served as Chairman of the Commonwealth Trust and the Royal Commonwealth Society and President of the Joint Commonwealth Societies Council. Over the decades, Sir Peter also greatly contributed to various causes, including on the Commonwealth, through his articles, commentaries and book reviews. Sir Peter was a keen sportsman and remained an avid cricket enthusiast.
In response to the sad news of Sir Peter's passing the Commonwealth Association patrons, the four former Commonwealth Secretaries-General, as well as the Association's alumni have paid warm and moving tributes to Sir Peter. These tributes and other articles (links below) convey much more and also highlight the extraordinary calibre of contributions made by Sir Peter and the high regard in which he was held by all.
Tributes by the Commonwealth Association patrons and alumni are reproduced below in the order they were received.
Links to articles on Sir Peter published by The Round Table and Corpus Christi College, University of Cambridge, are provided below.
TRIBUTES
10 June 2023
Max Gaylard and Madhuri Bose:
Very sorry to hear the news of Sir Peter Marshall's passing. Our deepest condolences to his family.
Sue Onslow, former Director, Institute of Commonwealth Studies:
I am deeply saddened to hear this. A great and gracious man, and treasured friend .
Gail Larose:
So very sorry to hear this news. My sincere sympathy to Sir Peter's family and to all of us who had the good fortune to know him.
Matthew Neuhaus:
So saddened to hear of the death of Sir Peter Marshall, a voice of wisdom, principle and kindness in our Commonwealth over many years. I will miss his insightful and inspirational commentary on the issues of the day. What a wonderful way to go though at his age for a man who lived his cricket almost as much as the Commonwealth.
Vale Sir Peter. Your example will continue to inspire us.
Peter Williams:
Thank you David for passing this bleak news on to us so quickly. How sad to learn that our indefatigable Champion and mentor is no longer with us. His experience was seemingly unparallelled and apart from the constant stream of thoughtful essays that flowed from his pen it was invaluable to have an influential friend who commanded respect and affection at the British FCO.

How apt that he was watching cricket at the end. Cricket is a major ingredient of the cement that binds us all together as I was reminded when another Peter, Peter Brook (Lord Brooke) died the other day. It fell to that other Peter, as junior education Minister at the time (though he later became NI Secretary and Home Secretary) to carry the can at the 9CCEM in Cyprus in 1984 for Margaret Thatcher's full cost fees for Commonwealth students policy. Only a witty string of cricketing metaphors about going into bat on a sticky wicket enabled him by creating gales of laughter to partially appease, and win the warm friendship of, his disgruntled colleagues an episode Peter Brooke frequently recalled with pleasure in House of Lords debates on the Commonwealth.

Peter Marshall himself certainly played a long and invaluable innings for the Commonwealth both as DSG in charge of economic affairs, and as our CW Association President and I know we are all conscious of the huge debt of gratitude we owe him – which others will be able to voice more authoritatively than I.

Stuart Mole, Chair, The Commonwealth Association:
While we knew that Peter's health had become very fragile, this is immensely sad news.
What an amazing person Peter was – an archetypal British diplomat, silver-haired and silver-tongued, but one who, once recruited by Sonny Ramphal into the Commonwealth, became one of the association's stoutest and most enduring advocates. His prodigious output of articles and the stream of letters he despatched to those in positions of power, badgering them to take up some fresh initiative, was unequalled and awesome. Less than two months ago, he was worried that a Round Table article he had written on the Coronation might not be published before the event and a string of his supporters and admirers made sure that he was not disappointed.
He was also kind and considerate, generous and hospitable, with an irrepressible sense of humour. Inevitably, his life was touched by sadness and loss yet he retained his huge sense of optimism and positivity. How fitting, too, that he should have left us while watching his beloved cricket.
Our thoughts are with his children and his family and with so many who will miss him very much.
Karen Brewer:
I read about the passing of Sir Peter with great sadness and echo what Stuart has said about him. He was kind hearted and always interested in what was happening around the Commonwealth. His missives were always fascinating to read and he will be very much missed by all of us who knew and appreciated his sense of timing and of humour as well.
It would be helpful to know when the funeral is as many of us would like to attend to pay our respects, I am sure.
David, please pass on my condolences to his family. Kind regards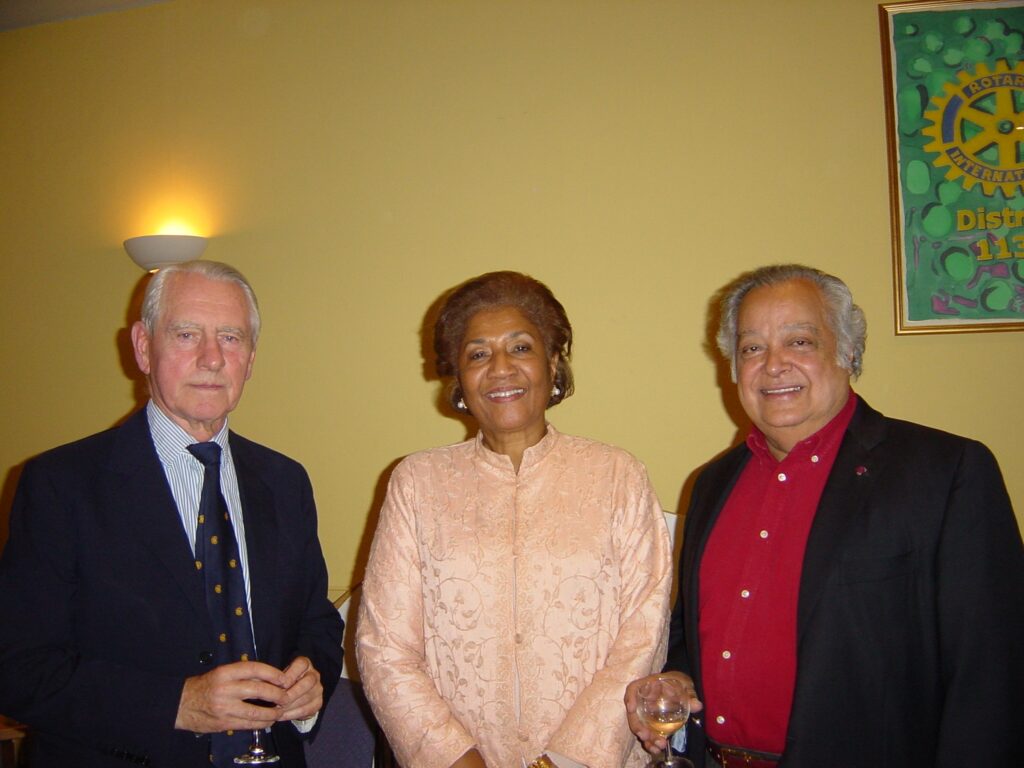 "Sonny" Ramphal, Sir Shridath Ramphal GCMG AC ONZ OE OCC KC FRSA, former Commonwealth Secretary-General (1975-1990)
What sad news indeed; but how blessed that Peter did not suffer. Through all our years together, I could not have wished for a more loyal Deputy or for the Commonwealth a more devoted officer – and he continued to serve the Commonwealth beyond Marlborough House. Stuart Mole has uttered my sentiments of eulogy exactly and I proclaim them in full measure. The Commonwealth was fortunate to have had Peter Marshall's service when it did. The qualities of the British Foreign Service whence he came illumined his Secretariat work, and all his many Commonwealth roles beyond it. His loyalty to the concept of 'Commonwealth' was fulsome and his service to it immeasurably distinguished.
I shared in the joys and sorrows of Peter's life; and my thoughts now are with his family in this sad moment – but thought too of the glorious life he lived.
Don, Rt Hon Sir Donald McKinnon ONZ GCVO, former Commonwealth Secretary-General (2000-2008):
Well to hear that made me very sad.
I had lunch with him a year ago and his humour was as sharp as ever. There wasn't a day that he did not extoll the benefits of the Commonwealth to whoever was within his hearing, and, with that great sense of humour.
The memories he left with many are very strong. He will not be forgotten very easily
My condolences to all his family and friends
With kindest regards
Raja Gomez:
This is really sad news. Sir Peter was among many other things a great supporter of the efforts of our Association. We must be grateful for all he did for so many during his life and be thankful that he died peacefully in the manner he would have wished, watching the game he loved.
May he rest in peace.
Guy Hewitt:
Let us give thanks for a long and distinguished life of love and faithful service. May our brother Peter rest in peace and rise in glory.
Peace and good wishes,
Mohan Kaul:
Very sad news indeed. He will be greatly missed. We all lost a true friend and a well wisher.
Sandra Pepera:
I concur with all that has been said about Sir Peter. A great loss and an 'amen' to Guy.
Ian Thomas:
It is with the greatest sadness that I read of the passing of Sir Peter Marshall. But what a great age and what a way to go – quickly, peacefully and watching the game he loved.
Those of us in the Economic Affairs Division who worked closely with Sir Peter during his time as DSG (Econ) know just how dedicated and inspiring he was, and what a close interest he took in all our work. That was especially true of our tasks in preparing for the annual meetings of Finance Ministers, as well as of other ministerial gatherings such as those dealing with trade, or employment/labour, or the various groups of experts assembled to discuss and report to Commonwealth governments on the major economic issues of the day. His value to our work was beyond measure.
It was a great privilege to have known Sir Pater and I pass on to this family my deepest sympathy on their irreplaceable loss.
Richard Bourne:
Thank you for informing us all. Sir Peter contributed to the modern Commonwealth in many fields, continuing after his service in the Secretariat, and is genuinely irreplaceable. We all mourn him now.
Domini Bingham:
I am most sad to hear this. What a gentleman and formidable mind.
My deep condolences to Sir Peter's family.
William Rezel:
So sad to hear of the passing of Sir Peter. RIP Sir Peter!!
Kamalesh Sharma GCVO IFS, former Commonwealth Secretary-General (2008-2016):
It was with the greatest sadness that I learnt that the days of Sir Peter Marshall had drawn to a close, but perhaps as he would have liked, quietly, and watching and appreciating good cricket. Many had been quite anticipating his own century and how it would be lustily applauded.
I can recall no greater believer in the Commonwealth and passionate cheer leader for it from my days in the Secretariat. I will ever have his intensively attentive, beaming and encouraging face from the audience, when I frequently caught sight of it when lauding and encouraging the role of the Commonwealth from a podium, imprinted in my mind.
He was always enthusiastic and greatly encouraging of any service we were trying to render to the Commonwealth. I recall particularly his citing with pleasure a comment that the Commonwealth was born in the twentieth century but was designed for the twenty first.
Only a few days before his passing I had shared with him some thoughts on how, in changing times, the voice of the Commonwealth could be lifted in the years to come, and its contribution as a great global good. I like to think that, in his last days, he would have happily greeted the intent behind them and heartily endorsed the belief in the Commonwealth they represented.
It was an immense privilege to have known Peter well and to have shared so many moments, discussions and conversations with him. These and the beauty of his personality will be treasured by me till my own call comes.
Asif Khan:
It was perhaps appropriate that the Almighty declared Sir Peter's innings closed while he was watching the game he loved: cricket. At 98, he had had a long and brilliant innings.
May He now select him as captain of a Commonwealth XI in heaven.
Chief Emeka Anyaoku GCON GCVO CFR CON, former Commonwealth Secretary-General (1990-2000):
Although I had been made aware of Peter's failing health, I nonetheless received the news of his death with great sadness.
Peter was a cerebral and amiable colleague at the Commnowealth Secretariat from 1983 to 1988 when we were both Sonny Ramphal's Deputy Secretaries-General, he in charge of economic affairs and I of political affairs and Administration. He had an unusual capacity for presenting complex economic issues in simple and elegant prose. And he demonstrated a remarkable transition from being a long-dedicated diplomat of one member country (UK) to an equally dedicated representative of the multinational Commonwealth.
Peter continued in many brilliant articles his advocacy of the Commonwealth's inherent value and services to its members and the wider global community long after leaving Marlborough House and until his dying days. A recent example of his activism in championing the Commonwealth was his fervent support for the joint demarche by the former Commonwealth Secretaries-General to the University of London authorities when the Institute of Commonwealth Studies was threatened with closure. He was an effective advocate at the lunch I hosted in honour of the Vice Chancellor to discuss the affairs of the Institute.
Many of Peter's writings on the Commonwealth, the United Nations and Cricket are a treasure. It is perhaps of some comfort that he passed away peacefully while watching a game of cricket, a sport he loved.
I join many Peter's friends and associates in praying that The Almighty will grant to his family the equanimity to bear the loss and that his soul will rest in perfect peace.
Carl Wright, Secretary-General Emeritus , Commonwealth Local Government Forum:
Like everyone who knew Sir Peter or worked with him I can only echo the tremulous respect and esteem he was held in.
I will remember him both for his intellect and his humour. Whenever I saw him, he reminded me – with a twinkle in his eye- of the meetings of employment/labour ministers during the ILO in Geneva which he helped to convene (which Ian Thomas alluded to) and the trade union delegations I used to muster on those occasions.
Subsequently he became a great Commonwealth icon and we are much poorer without him and his incisive analyses and engaging wit.
Adele and I extend since condolences to his family and friends and we hope there will be a suitable Commonwealth occasion when we can all pay fond tribute to his memory.
Evelyn Adlam:
I join everyone who's written in, to express sadness and shock at the sudden and unexpected demise of Sir Peter Marshall. We'll all miss his great enthusiasm with, and regular correspondence to, the ComAssoc. May he rest in eternal peace. I send my condolences to his family.
12 June 2023
Rupert Jones Parry:
It is with great sadness that I read of the passing of Sir Peter. It was a considerable privilege to have known him; he was always a delight to meet. He will be much missed.
My deepest sympathy and condolences to his family.
Antony Ellman:
A privilege indeed to have known Sir Peter. I was constantly amazed at his energy, the breadth of his knowledge and interests, and his ability to put into delightful prose the thoughts that others were having but were unable to find the right words for. He will be greatly missed.
Amitav Banerji:
There is nothing I can add to the deluge of fitting tributes paid on this site to the late Sir Peter. He was, in so many ways, a truly remarkable man, one whose memory will always shine brightly in our hearts. I join others in mourning his loss — and in celebrating a life lived to the fullest.
Madhuri Bose:
Remembering Sir Peter at the launch of The Commonwealth Association on 8 June 2001.
14 June 2023
Lorna McLaren:
I had had the honour, privilege and pleasure of working with Sir Peter Marshall as his Senior Executive Secretary for the five years that he served as Deputy Secretary-General.
Sir Peter was a steadfast, loyal and tireless advocate of the Commonwealth. He was in great demand as a speaker and was a prolific writer on Commonwealth matters. He approached each task after careful consideration so that, by the time he came to put pen to paper, there was clarity and certainty about what he wanted to say and how he would to couch it. I learned so much from this great man. He was indeed a gentleman scholar of superior intellect with a generosity of spirit that was second to none. He felt tremendous empathy with those who were less fortunate and believed that, when all is said and done, the primary purpose of the Commonwealth Secretariat is to help those who are less fortunate in any and every way possible. He was kindhearted, generous and just an all-round decent person. I have never heard Sir Peter say an ill word about anyone. He always looked for the best in people and agonised about how to find the most fair and just solution to any problem. He had a wonderful sense of humour and was a great teller of stories and jokes.
We formed a lasting friendship. The fact that we lived within a stone's throw of each other made it easy to meet for lunch from time to time. He never failed to ask after my family and regaled me with colourful accounts of his grandchildren's activities. I shall miss him dearly, and it will be hard to fill the space that he used to occupy.
There is nothing more beautiful than a life well lived. Rest in Peace, Sir Peter.
My deepest condolences to Guy, Fiona and other members of his family.
Stuart Mole writes about Sir Peter's funeral in Kensington
External Links to articles on Sir Peter Marshall: