Tree memorial for Patsy Robertson: a voice and face of the modern Commonwealth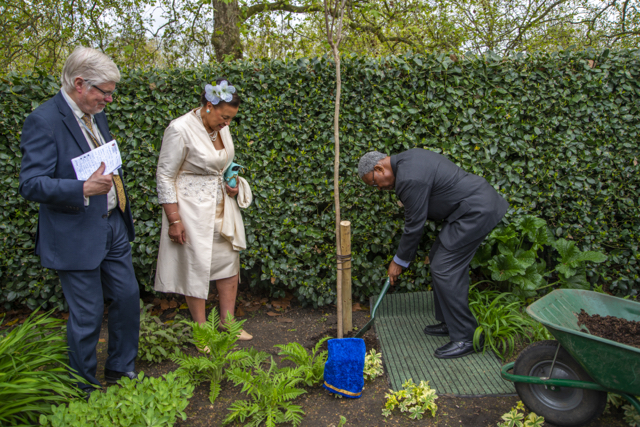 L-R Stuart Mole, Baroness Scotland (Commonwealth Secretary-General, Chief Emeka Anyaoku, former Secretary-General
On Tuesday 9 May 2023, the Commonwealth Association organised a tree planting ceremony in memory of Patsy Robertson in the beautiful gardens of Marlborough House. Former Commonwealth Secretary-General Chief Emeka Anyaoku, who had worked closely with Patsy for 28 years, was the Guest of Honour and performed the ceremonial tree planting. Commonwealth Secretary-General Patricia Scotland as well as Patsy's family, friends (some of whom had flown in specially for the occasion) and former colleagues witnessed and applauded the formal planting of an Indian bean tree, catalpa nana, on that surprisingly sunny and pleasant afternoon.
Chief Anyaoku also unveiled the memorial plaque and paid a warm tribute to Patsy. Among other things, Chief Anyaoku highlighted Patsy's effective communication skills and passionate advocacy of the Commonwealth's values and principles to raise its profile. (Full text of Chief Anyaoku's remarks here.)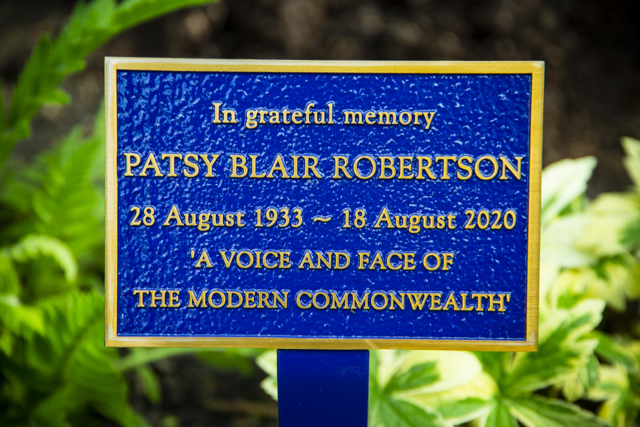 Tributes to Patsy were also paid by Commonwealth Secretary-General Patricia Scotland and Patsy's son John and daughter Sarah. All the tributes echoed the sentiments expressed on the plaque that Patsy was truly 'a voice and face of the modern Commonwealth'. Patsy had devoted most of her professional life to the Commonwealth, which she was passionate about. She continued to promote the Commonwealth through activities with a number of Commonwealth organisations even after she left the Commonwealth Secretariat in 1994. Patsy was also the founding Chair of the Commonwealth Association, the alumni organisation of former Commonwealth staff. Stuart Mole, who succeeded Patsy in the Chair, said that Patsy's tree would be 'a living memorial' to her extraordinary life and a focus of continuing remembrance.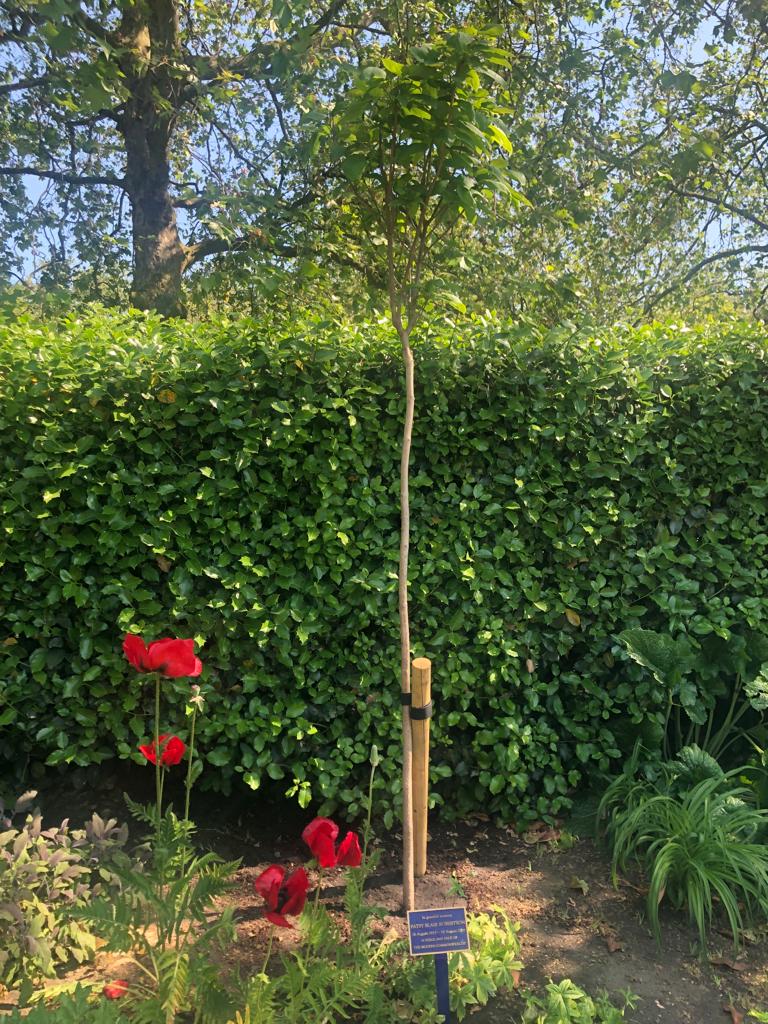 The suggestion to acknowledge Patsy's dedication and remarkable service to the Commonwealth by planting a tree in the gardens of Marlborough House, a Royal Palace, had been made by Richard Bourne at the Commonwealth Association's 2020 Annual General Meeting. It came to fruition after several years of patient work by the Commonwealth Association's Executive Committee in securing approval of this proposal, first by the Commonwealth Secretary-General Patricia Scotland and ultimately by the late Queen. The tree planting ceremony was very well attended and much enjoyed and appreciated by attendees (see below), a number of whom made generous contributions towards the substantial cost of the memorial and reception.
We hope that the Indian bean tree will serve not only as a memorial to a remarkable and inspiring Commonwealth activist, but also to the countless individuals who have assiduously worked behind the scenes to support Commonwealth leaders and to serve the Commonwealth without expectation of recognition, just as did Patsy.
Selected Excerpts of Feedback from Attendees
'Thanks for all you and your colleagues did yesterday to mark really important events, honouring both Patsy and Emeka. I greatly enjoyed the afternoon.'
Peter Williams, former Director of Education
***
'It was a fitting way to remember Patsy who was acknowledged by all who attended as a remarkable and dynamic person who was dedicated to the Commonwealth.'
Rita Payne, Journalist and Media Adviser, President Emeritus, Commonwealth Journalists Association
***
'A million thanks for organising a beautiful and moving tree planting ceremony in Patsy's name, and a lovely cake for Chief Anyaoku's 90th birthday. It brought so many of us 'old timers' together again in the wonderful Marlborough House setting.'
Cheryl Dorall, former Deputy Director of Information
***
'It was a pleasure and privilege to be at Marlborough House … for the tree planting in Patsy's memory – as well as to celebrate the Chief's 90 years! My warmest congratulations to Stuart, David and the Commassoc executive committee for a wonderfully organised event. It was lovely to meet up with so many old friends and comrade-in-arms!'
Amitav Banerji, former Director of Political Affairs
***
'The Association did a great job and it was very nice to see everyone and celebrate Patsy's life.'
Janet Strachan, former Head of Climate Change
***
'We all owe much to Patsy, a true inspiration and warm friend.'
Matthew Neuhaus, RCS President, ACT and former Director of Political Affairs
***
'As President of the Association, Patsy was effective and charming. As a friend she was great. Her memory will remain with the growing plant.'
Selina Mohsin, former Chief Programme Officer, Human Resource Development